What is the definition of balayage hair?
Balayage means "to sweep" in French. It is an in-depth process used to create a stunning blend of hair colors. While ombre is more of a "shadow" effect, balayage hair is a highlighting technique that looks as though as it has been hand-painted by a skillful artist. Which in a sense, it is. Your stylist will use a variety of methods to achieve this trendy style!
Balayage Is The Hottest New Hair Trend! Here we have collected our favorite balayage hairstyles for those with brunette hair. Now, you will learn how to get it so that it is absolutely best for you!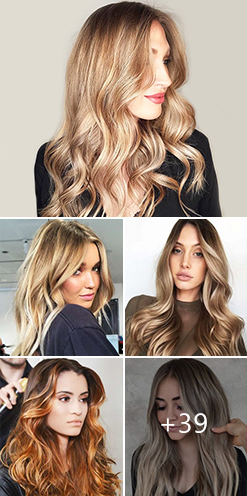 ---
Scroll down to read more!
---
What is the Balayage technique?
Balayage is a hair technique that started in France and aimed to create soft, sultry highlights that look more modern than the traditional highlights.
How much does it cost to get a Balayage?
Girls around the world are obsessed with balayage not only because it looks stunning but also because of the available price (average price is $180-$200). No matter what color your hair is or length you can get a balayage and wear it for four to six months before upgrading the color.
How long does Balayage take in a salon?
It normally takes between two and three hours to complete the balayage process. So keep the mind when you are booking your appointment with your stylist. But we promise it will be well worth the time and effort!
How long does Balayage last for?
Balayage color can last anywhere from 8 to 12 weeks. This also depends on your hair texture of course. It also spends on the colors you choose. Blondes, of course, will fade quicker than darker tones. However, balayage typically lasts longer than ombre so you will not need as much touch-up!
Ombre And Balayage
Is Ombre and Balayage the same thing?
As we discussed previously, balayage and ombre are not the same! Balayage is hand painted technique much like highlighting while ombre is a gradual fade or lightening. Also, the usual difference in ombre and balayage is that ombre shades are usually more colorful such as pinks, purples and other fun shades white balayage tones tend to be more natural. Of course, there are an exception for both. But if you are looking for a more natural look, balayage is definitely the way to go as it is a more subtle blend of color.
If you can't decide whether you want balayage hair vs ombre read on to see if any of these balayage hair pictures will convince you that balayage is more your style!


Source: rafaelbertolucci1 via Instagram
Brunette hair is making a huge comeback. For years, it was the belief that blonde was the most popular shade. However, brown hair is just as pretty, if not more so.
This pretty blend of warm and cool brunette shades is so pretty. The colors blend so perfect that you can't tell it is not your natural color. And with a long layered cut with flowing waves, you can't go wrong this elegant look!
To style, blow dry your hair, making soft waves as you go. If you need to, use a large curling iron to make big waves throughout. When getting it cut, ask your stylist for long layers and side bangs to add a soft and sensual vibe.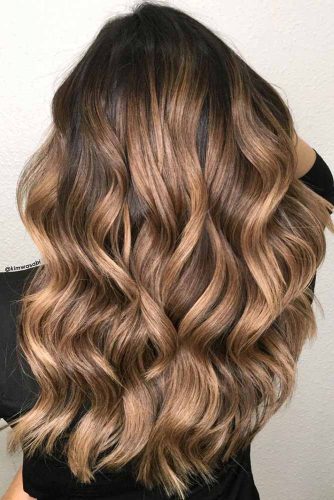 Source: kimwasabi via Instagram
Another stunning look for brown hair is this soft blend of chocolate brown, chestnut brown and honey brown hues. The lighter shades will stand out in the sunlight and add a ton of depth and dimension to your hair. As well, it will make it look fuller and healthier as it will add shine to your tresses.
If you have naturally curly hair, even better. Look how pretty these colors look on a wave of cascading curls!
To style, blow dry your hair and use rollers or curling iron to make bouncy curls. If your hair is naturally curly, add your favorite curling product and let it air dry. Then flip your hair over and tousle it for a carefree, sexy head full of voluminous curls.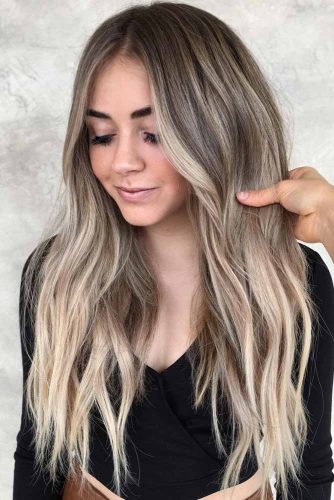 Source: hairby_chrissy via Instagram
If you are still torn between ombre and balayage, why not go for the best of both worlds. This stunning color combo of dark and light brown is stunning. It starts off with pretty balayage tones at the top and fades into a soft honey brown ombre fade at the bottom.

Flamboyage Technique
What is a Flamboyage?
You might have noticed a new color trend. Flamboyage is taking the world by storm. But what exactly is flamboyage? Flamboyage technique differs from balayage in that balayage is applied with foil while flamboyage is applied with sticky strips. These strips make it easier for the stylist to be more precise with the specific pieces that are to be colored. The effect is a gorgeous sun-kissed look that will last longer and grow out effortlessly.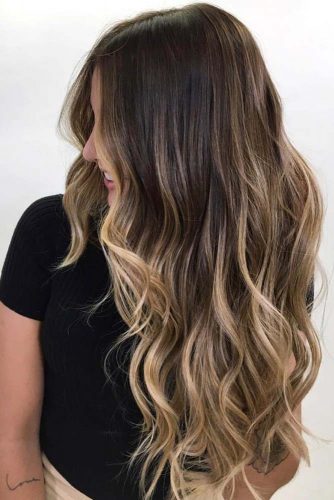 Source: rafaelbertolucci1 via Instagram
This gorgeous fade from dark brown to platinum blonde is too stunning for words! The flamboyage shades of deep brown, honey blonde, buttery blonde and pale blonde make for a gorgeous fade of cascading curls that will make it look like you spent hours in the salon and thousands of dollars on your hair!

Source: natalieannehair via Instagram
If you want a look that's more natural, this pretty flamboyage blend is super pretty with its soft shades of dark brown and honey blonde. And it looks spectacular on wavy hair!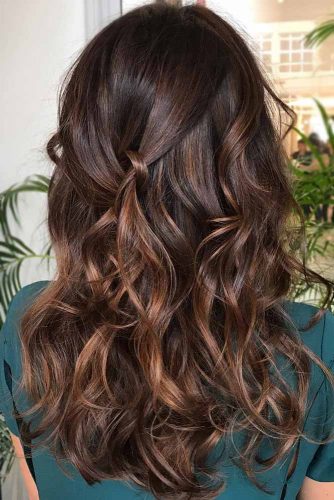 Source: petermenezes via Instagram
For those who just want a subtle burst of color, this slight hint of flamboyage is the perfect solution. Just a hint of hand painted auburn highlights on a dark chocolate base is so pretty. And of course, if you have curly hair, it will add a ton of depth and dimension for a pretty multional look and feel.

Sombre vs Balayage
Sombre vs balayage – what's the difference? Sombre is a softer version of an ombre fade. Balayage, as we said before, is a hand-painted highlighting technique. Sombre is a great way to lighten up the ends of your hair, while balayage is an all over highlighting effect. Sombre is the perfect solution if you want a pretty look that grows out beautifully and does not require a lot of upkeep.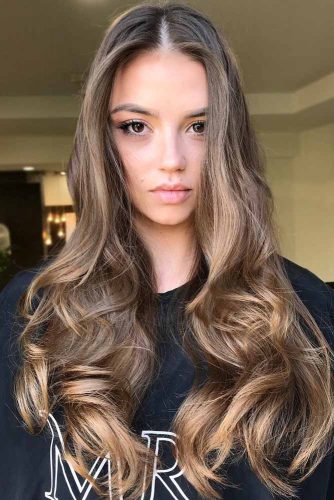 Source: natalieannehair via Instagram
Sombre hair is very chic and sophisticated if you are looking for a very soft ombre or balayage effect. This pretty brunette ombre with honey brown hues is just striking. Curl your ends to show off the pretty multidimensional shades of brown.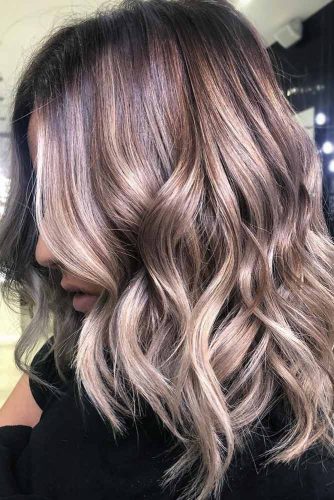 Source: rafaelbertolucci1 via Instagram
This pretty sombre fade looks so natural that no one will guess you color your hair. The dark to light brown fade is so subtle but yet adds a ton of depth and dimension.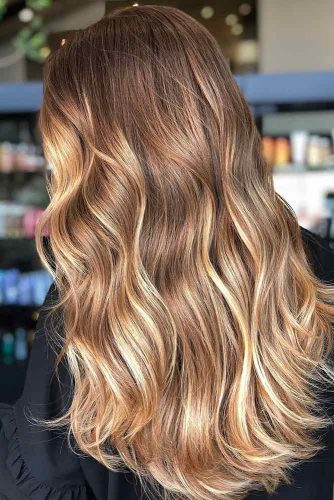 Source: petermenezes via Instagram
If you aren't afraid to go a bit lighter, this dark brown to honey blonde sombre effect is just splendid. The waterfall curls give it a ton of body while the pretty shimmery shades add more texture.

Espresso Balayage With Caramel Tones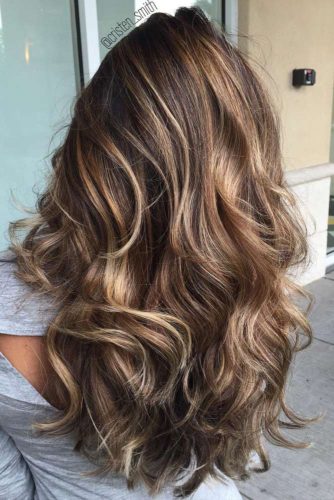 Source: Сristen_smith via Instagram
For an ultra-trendy look, opt for thicker highlights below with thinner tones in the middle. This combo of caramel and honey colors is perfect. You can add some blonde to the ends for added dimension. You can also add some curls for a fun, flirty appeal that works for any occasion.

Brown to Caramel Ombre And Blonde Balayage Hair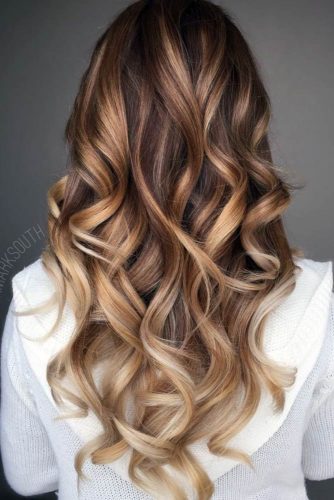 Source: Southmarksouth via Instagram
Every brunette who dyes her hair opts for the fade from brown to blonde. But if you wish to personalize this look, add random blonde highlights to brown and caramel ombre and then frame your hair with blonde highlights, as well. This looks stunning in a longer v-haircut and will turn heads wherever you go.

Chocolate And Dark Brown Balayage Hair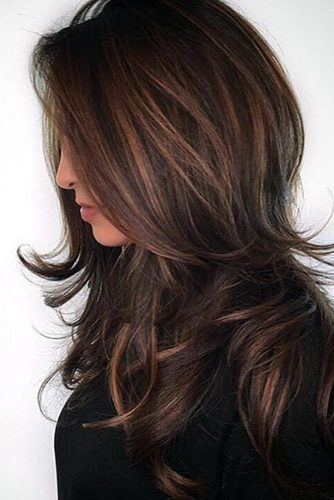 Source: Lizhaven via Instagram
This style creates soft and silky dimension to those with brunette hair. Keep your natural base and add a medium brown balayage color. This color works great on those with medium layered cuts and naturally wavy hair.

Caramel Balayage Highlights For Brown Hair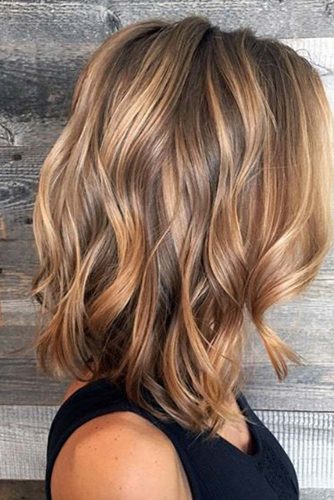 Source: Mmseportfolio via Instagram
For those who prefer a sun-kissed natural look, but want to maintain their sexy brunette status, this sultry style with blonde and caramel tones will add a new life to your brunette locks. This looks especially gorgeous with a funky, choppy bob.
Balayage hair color is different from traditional hair coloring in that it is painted freehand as opposed to using foil or a hair cap.

Soft And Subtle Balayage For Brown Hair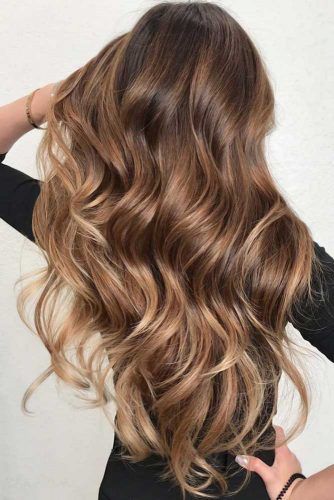 Source: kimwasabi via Instagram
If you aren't feeling too daring, start with a more subtle fade to brown balayage. If you are impressed, you can always go bolder your next round. This style is so versatile and this look is so soft and feminine. You can always upgrade to a funkier balayage when you feel more daring.

Natural Chocolate Waves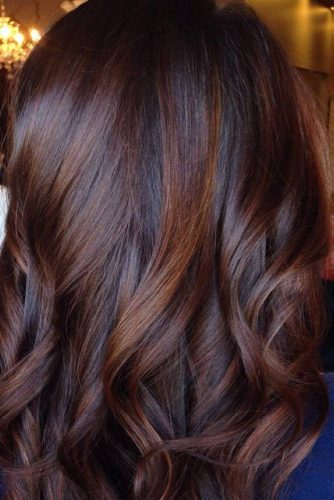 Source: Ashleymichelleartistry via Instagram
For those with straight, darker hair, this style adds some spice without being too bold. There is just a slight depth to add dimension to your naturally dark tones. Add some sexy curls or beach waves for a chic and classy look and feel.

Caramel Hair
Source: romeufelipe via Instagram
This angled bob proves that balayage hair color can work on any hair length. The layers add dimension and the soft caramel tones add mystery for a sexy, sultry look that will draw all eyes to you when you waltz into a room.

Caramel Ribbons With Chocolate Waves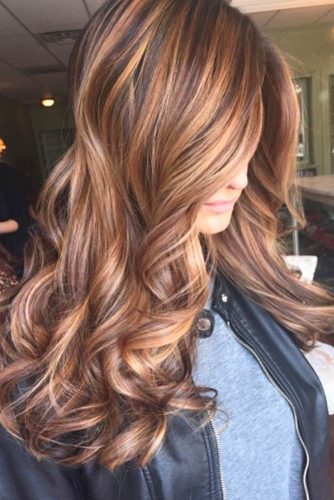 Source: Jacque_linaaa via Instagram
Caramel and chocolate are not only a sweet food combo but a sexy combo for hair color, as well. The subtle blend between the two colors that is definitely feminine and sophisticated will add depth and dimension to your gorgeous brunette locks without being too dramatic.

Black Hair With Caramel And Brown Ombre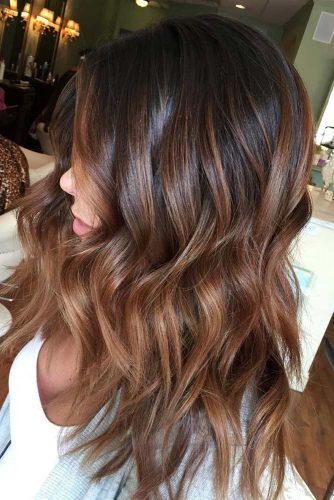 Source: Saloncouture_ny via Instagram
This stunning style combines the two most popular coloring techniques: ombre and balayage for gorgeous waves with a lot of dimension. These colors will cascade gracefully throughout your natural curls and waves for added depth and texture.

Blonde, Caramel, And Brown Tones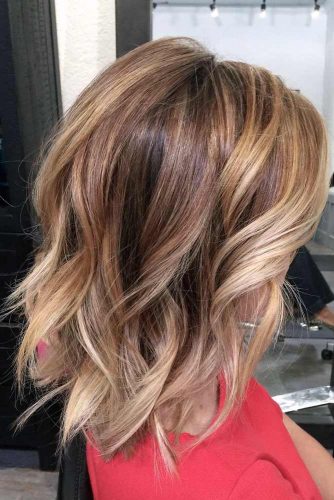 Source: Kimjettehair via Instagram
Reddish tones on brunette hair are always a popular choice. Start with a dark burgundy or deep chocolate brown at the base and then add chunky caramel heights with a subtle sprinkle of blonde for a stunning style with color and dimension.

Brunette Layered Haircut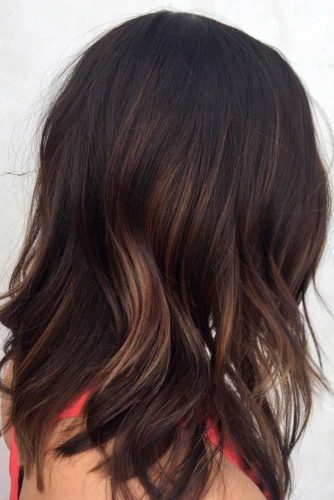 Source: Ceeen via Instagram
For those who like to wear their hair down, this medium length cut with its bold and choppy layers and dramatic darker brown balayage is both fun and sexy. If you want to be a bit bolder, graze the layers with a lighter shade. Light caramel on deep black is sultry and sophisticated.

Wavy Brown Bob
Source: Marianna_hewitt via Instagram
There are so many options for brunettes when it comes to balayage hair colors. You can add caramel and auburn tones to your darker tresses or add golden shades from light blonde to a softer brown. The more shades you add, the deeper the dimension. Start with a dark base and wash in medium colors with light ash tones towards the ends and then add very thin ribbons of blonde throughout for a unique and sexy style.

Mixed Balayage On Dark Brown Hair
Source: chelseahaircutters via Instagram
This style works best on those with a shaggy cut and natural waves. It is both chic and natural with its great blend of soft and subtle caramel and lighter brown balayage tones. This look will come off elegant, natural, and carefree.

Caramel Toned Layers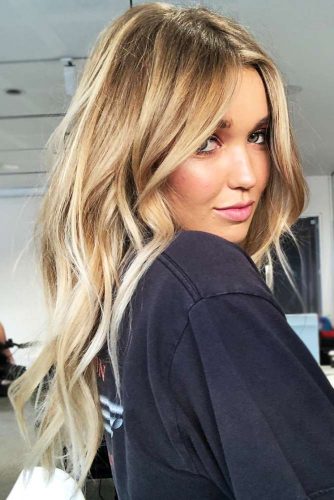 Source: chelseahaircutters via Instagram
This soft style works great on brunettes with warmer complexions. Long luscious waves of caramel ribbons throughout add a silky dimension that can drive any man to his knees.

Coffee Brown Ombre
Source: prettylittleombre via Instagram
Auburn is less popular than caramel but it can be just as stunning, if not more so. If you want to stand out from the crowd, mix in some auburn tones to your darker locks. You can throw in some darker brown balayage as well for added depth.

Warm Copper
Source: emmachenartistry via Instagram
A dark brown warm copper shade is rich and burnished. This hair color is flattering for ladies whose skin tone is medium, or fair, and peach, neutral or pink. Also, this shade is ideal for ladies whose eyes are green, blue, or brown.

Latte Brown
Source: chelseahaircutters via Instagram
A latte hair shade with an espresso hue is a gorgeous blend. It will make your facial features appear softer and also brighten your eyes. This shade is especially flattering when styled in effortless curls.

Dimensional Balayage Hair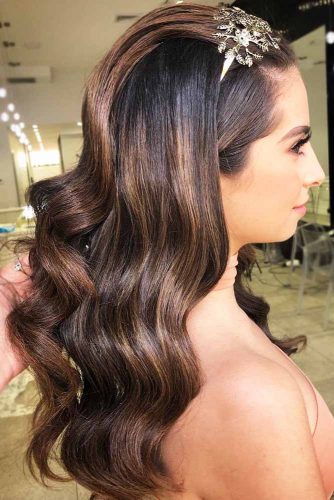 Source: natalieannehair via Instagram
This multi-dimensional balayage color blend with a hint of caramel brownie is super rich and so warm. This shade adds volume to your hairstyle, especially with waves.

Long Layered Hair With Light Balayage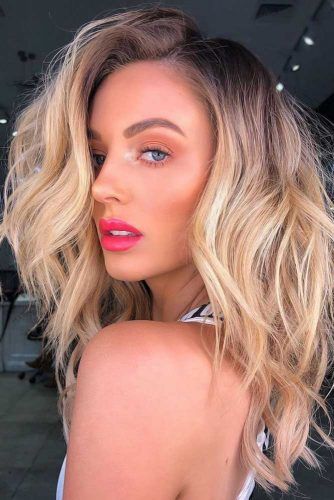 Source: natalieannehair via Instagram
If you have extra-long hair, you might like this style. Ask your stylist to make your balayage style like ombre, and you will see how the light color is running up from ends to roots. It is very beautiful on girls who have a long face shape and straight hair. Plus, layered haircuts will add volume to your style.

Pearl Balayage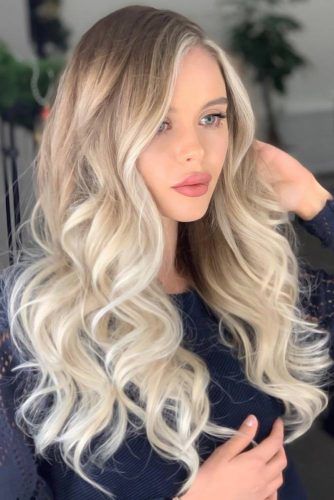 Source: mr_colorist_2017 via Instagram
To make this beautiful balayage, ask your stylist to use the latest pearl toner from your favorite line of hair products.

Soft Balayage On Bob Haircut
Source: rafaelbertolucci1 via Instagram
Here is the way how to wear soft balayage if you have a short haircut, for instance, a bob or lob cut. You need a color that is close to your natural hair color but few tones lighter. It will create a soft look that is stunning and very popular this year.

Pale Brown Balayage Hairstyle
Source: maxgourgues via Instagram
Any type of balayage would be perfect if you create some easy pretty hairstyles, for example, a classic fishtail. Any braid will show your perfect hair color and attract the attention.

Balayage For Wedding Hairstyles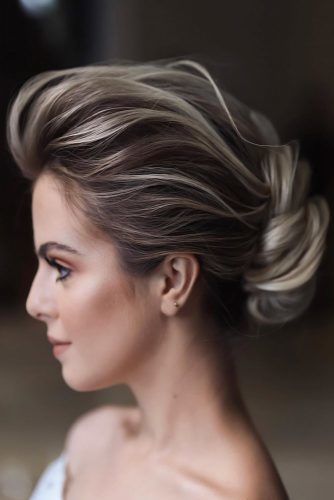 Source: tonyastylist via Instagram
Every bride wants to look special on her day. So, why not upgrade your hair with the balayage? This simple improvement won't harm your hair, and you will look amazing!

Light Brown With Wild Blonde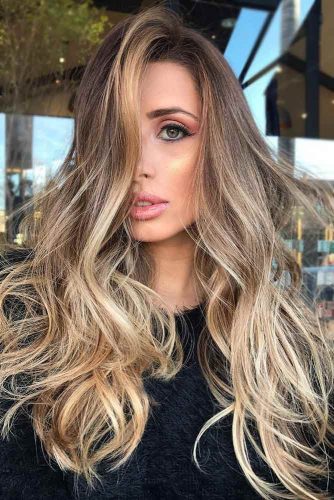 Source: rafaelbertolucci1 via Instagram
For those who want to go blonde, this pretty light brown and platinum blonde balayage hair is really sexy. Your hair will look like spun gold with these long sexy, beachy waves.

Dark To Light Brown Sombre With Blonde Accents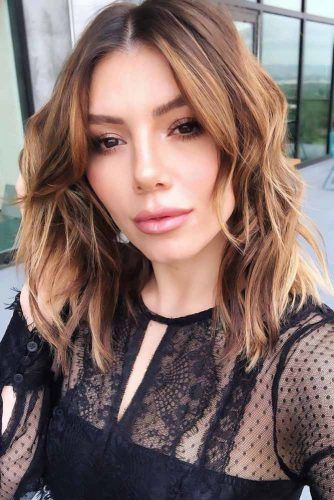 Source: larisadoll via Instagram
Sombre hair is an ideal style for those who want softer ombre. This look is no exception with its dark roots that fade to honey brown. Add in some light blonde highlights for a gorgeous balayage effect that is soft and romantic!

Burlywood Balayage On Textured Long Bob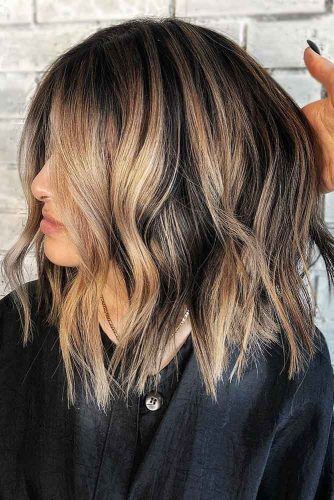 Source: larisadoll via Instagram
If you want a look that's elegant, this burlywood brown is just stunning. The subtle fade from dark to light is gorgeous. The longer bob with its slightly carefree style is very feminine and flirty.

Super Cute Style For Rose Gold Balayage
Source: mr_colorist_2017 via Instagram
Rose gold is a very popular shade right now. This balayage combo with darker roots, rose gold and ash blonde tones is soft and sexy. And the waterfall braid with cascading waves is the perfect look for those who want a trendy Boho chic vibe!

Brown To Tan Balayage Hair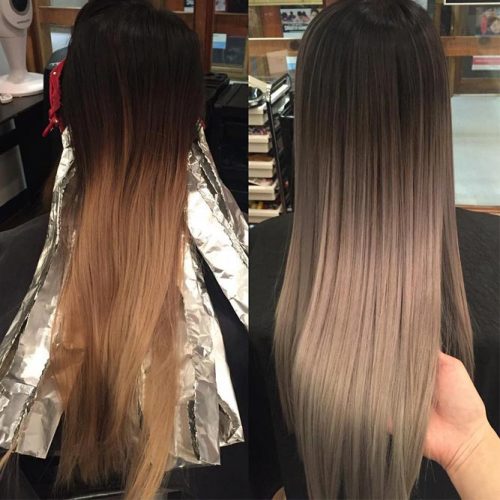 Source: ombrestudio via Instagram
This slow fade from dark to very light blonde with tan undertones is very mature and classy if you want a more subtle look. This long straight hairstyle is very professional if you are looking for something that is fit for both work and play. Imagine how pretty this style will look pulled back into an updo or messy ponytail.

Beach Waves For Long Highlighted Hair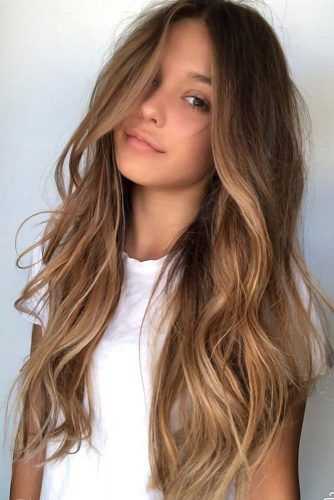 Source: chelseahaircutters via Instagram
These beachy waves are super sexy if you want a look that's young and flirty. The blonde and brown balayage is feminine and soft for a look that's sassy and seductive.

Brown To Cinnamon Balayage Hair
Source: kimwasabi via Instagram
Brunettes will look stunning with pretty black and brown balayage hair mixed with soft cinnamon highlights. The wavy style is seductive and playful.

Pale To Platinum Blonde Balayage Hair For A Face Framing Style
Source: romeufelipe via Instagram
Do blondes really have more fun? Test the old adage by trying this blonde balayage that fades from darker to very pale blonde. The platinum blonde highlights will frame your face to enhance your gorgeous facial features.

Honey Blonde Balayage Hair Color
Source: mr_colorist_2017 via Instagram
Can't decide if you want to go dark or light? Why not opt for something in-between? This brown and honey blonde balayage effect is soft and subtle for a look that means business no matter where you head for the day.

Indian Red And Brown Hair Color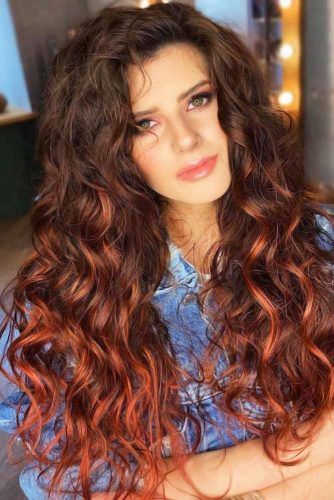 Source: sheffpavelstylist via Instagram
Are you feeling like a burst of color but don't want to go overboard? This brown and Indian red combo is just subtle enough to wear at work, yet, will show off your sassy side. Style your bangs to the side and let them fall seductively over one eye for a mysterious vibe that shows you know how to mix work and play.

Chocolate, Chestnut, Red Colors For Long Hair
Source: maxgourgues via Instagram
Are you feeling bold and looking for a brilliant burst of color? Why not dress up your long wavy tresses with this vibrant chestnut brown, bright orange red, and chocolate for a look that's edgy, yet, still feminine and soft?

Golden Honey Blonde Balayage
Source: mr_colorist_2017 via Instagram
Want a look that's glamorous and sexy? This honey and golden blonde combo is almost ripped out of a fashion magazine. If you want to look and feel like a movie star, this cut and color will add a ton of depth and volume to your locks.

Winter Wheat
Source: rafaelbertolucci1 via Instagram
Still think that only virgin hair that has never ever been colored and damaged can shine like that? Actually, everything you need is a perfectly matching combination of colors and a skilled colorist who knows how to deal with balayage. This shade is a sophisticated and attractive mix of wheat and pastel blonde hues that can flatter ladies with fair to medium skin tones. The best thing is, if you're blonde already, adding a cold wheat hue is enough to achieve the look.

Ash Blonde Balayage
Source: hairby_chrissy via Instagram
All those ashy, faded, and greyish tones are so popular today. But, unfortunately, not all of them look natural. And this is where ash blonde balayage comes in! Though the ash-to-greyish hue prevails in this color idea, the streaks of natural blonde balance out the whole look, giving a very harmonic and effortless appearance.

Ginger Hair Balayage
Source: maxgourgues via Instagram
Since the overwhelming popularity of ginger hair is not going to stop spreading around the globe, more and more ladies are dreaming about this color. And instead of getting envious every time a natural ginger-haired girl passes by, you'd better check out the variety of balayage options that can add a reddish hue to your life. This balayage hair idea is something unbelievable: caramel brown base smoothly becomes a flirty ginger shade. Why don't start with it? It's practically safe, especially if you start with brunette hair.

Caramel Dimension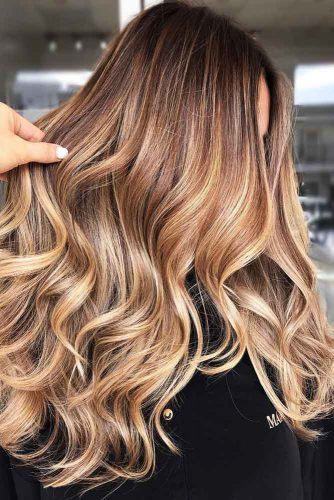 Source: suetyrrellstylist via Instagram
To achieve a multidimensional hair color naturally, you need to spend a lot of time soaking the sunlight. Sounds great, but not all women can afford such long-lasting beauty procedure. So here comes caramel balayage, the mix that can create a dimensional and, most importantly, natural look. It's one of the coolest options for brunettes as they only need to bleach some strands to bring it to life.

Sand Blonde Balayage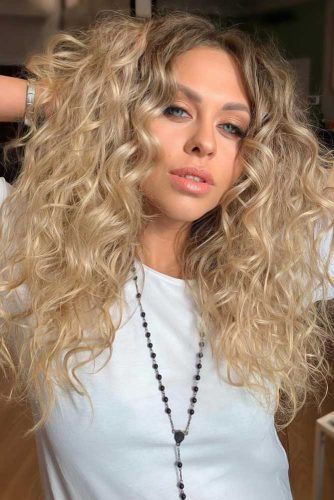 Source: sheffpavelstylist via Instagram
Sandy blonde hair color belongs to the part of blonde hair color chart that brings a lot of beachy and sunny vibes. In fact, it's a combination of muted caramel, dirty, and beige blonde shades that melt organically. If you feel that your eyes need enlivening, you can't go wrong with such a playful idea.

Baby Color
Source: natalieannehair via Instagram
A subtle finish that goes along your mane, accentuating your medium complexion and bringing harmony to your look, who could ask for more? Baby color is a less intense shade of the color you usually rock achieved with a faded hue. So as not to make the color plain and flat, we recommend you to make some strands lighter: it will create a natural dimension.


Also, you can try blonde balayage if you want to make your hair look more chilly during summer days.