BONUS. Personalized Canvas – Do you want to create a truly one-of-a-kind piece of art that is beautiful and out of the ordinary? Consider a sound wave canvas print of your voice saying "I love you" to your partner.
1. Relaxation Kit – Is your guy a little stressed out? THIS is the gift for him!
2. Travel Map – The perfect reminder of your adventures together, this DIY gift is as fun to make as it is to give!
3. Memory Book – This printable keepsake journal really is a gift that keeps on giving!
4. I Love You Jar – There are never enough ways to tell your sweetie you love him but here's 50 right off the bat!
5. Candy Poster – Sweets for your sweet takes on a whole new m meaning with this darling printable poster.
6. Slippers Gift – Keep him snug (and feeling the love!) with this clever DIY gift idea.
7. Reasons I Love You Poster – This printable poster, a marker, and your most love-filled thoughts are all that's needed for an easy gift he's sure to love!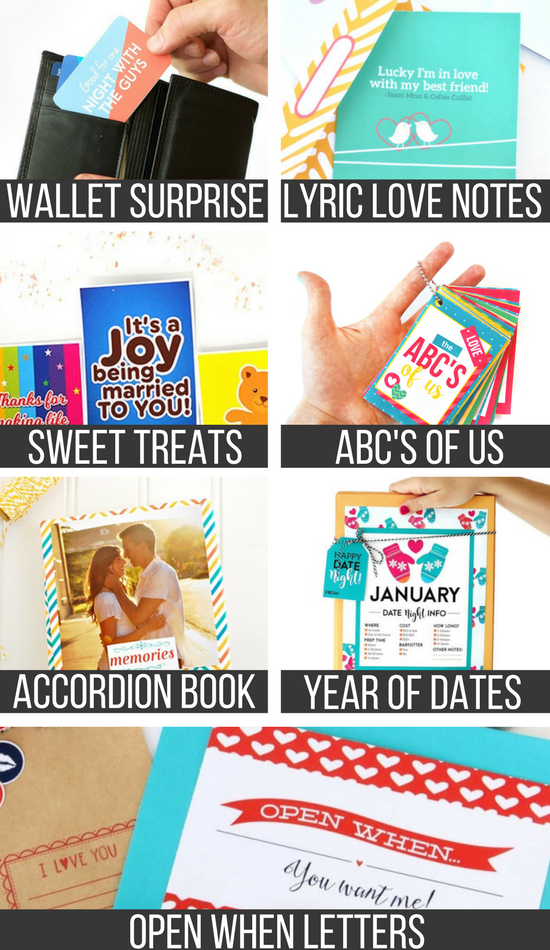 8. Wallet Surprise – Turn an ordinary moment into something extraordinary with this DIY Wallet Surprise that will give him all the feels.
9. Lyric Love Notes – Music lovers especially will adore these printable lyrical love notes.
10. Sweet Treats – Take a quick candy treat to the next level with this love-filled notes!
11. ABC's of Us – A memory book and extra special love note all in one- this fun to create gift is the perfect last-minute idea!
12. Accordion Book – With all sorts of clever twist and turns, this ultra unique accordion style memory book is the perfect way to say, "I love you."
13. Year of Dates – Let the gift of your love last all year long with this date kit that's guaranteed to please!
14. Open When Letters – The classic 'love letter' gets a whole new makeover with this beyond romantic idea.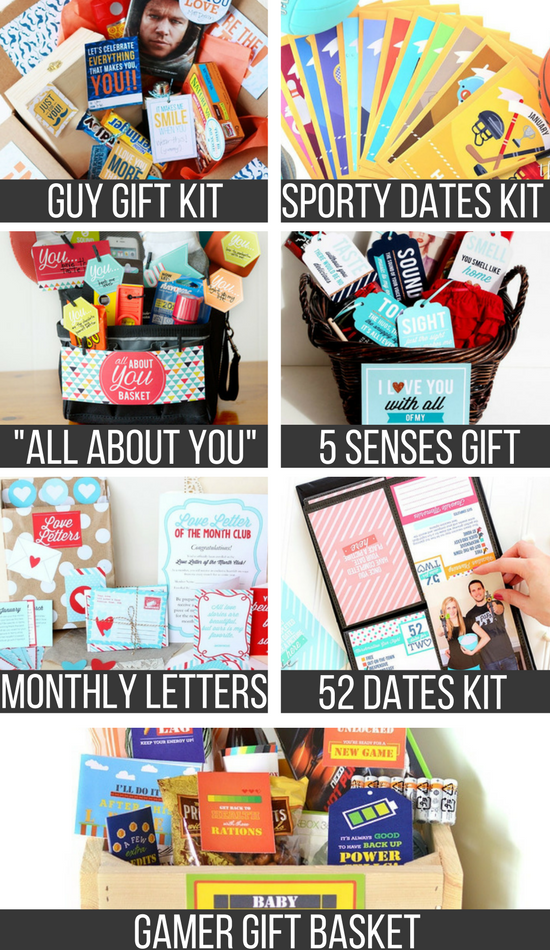 15. Guy Gift Kit – Show him how well you know him and how much you care with this customizable gift kit made just for him!
16. Sporty Dates Kit – Sports lovers especially will adore this date kit where sporty meets romantic.
17. "All About You" – He'll be the star of the show with this personalized basket that's all about him!
18. 5 Senses Gift – You love him with all your senses right? Show him that with this unique idea that's heavy on the love.
19. Monthly Letters – Why settle for one love letter when you can have twelve?! This darling idea gives your sweetie a letter to look forward to each month of the year.
20. 52 Dates Kit – Stay connected for an entire year with this weekly date night gift that takes the guesswork out of one-on-one time.
21. Gamer Gift Basket – Gamer guys will be especially excited about this gift basket!
ROMANTIC COLLECTABLES FOR HIM
From goodies and gadgets to those extra-sweet somethings, we've got something for every type of guy!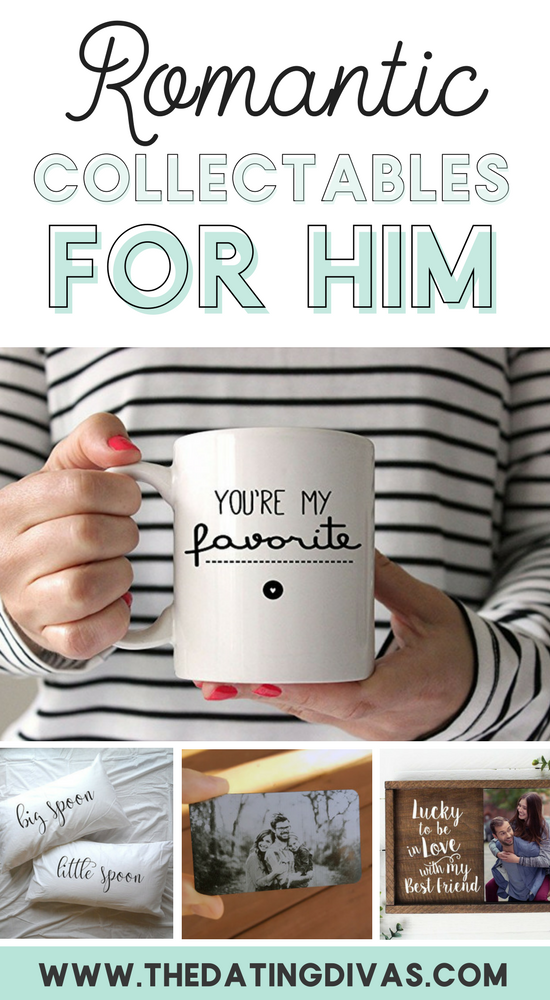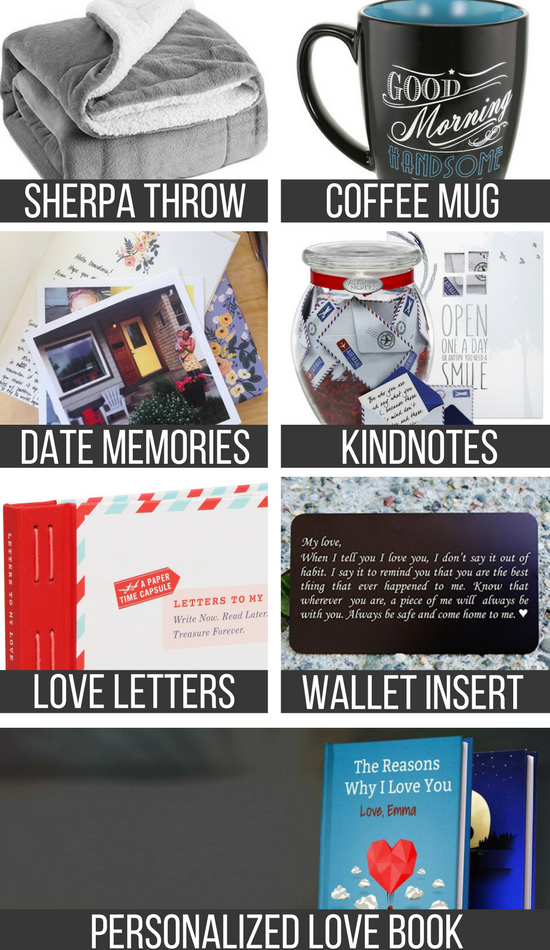 22. Sherpa Throw – Who's ready for snuggles? He sure will be with this super soft gift that's just right for two.
23. Coffee Mug – Remind him how much you love him each and every day with this 'Good Morning, Handsome' mug.
24. Date Memories – We're obsessed with Chatbooks and you will be too! Use them to create a memory book of dates, travels, or anything that inspires a little extra love.
25. KindNotes – With a unique inspiration message to be opened each day of the month, these notes in a jar are the perfect way to say, "I love you."
26. Love Letters – Keep those love letters neat, tidy, and forever preserved with this special book.
27. Wallet Insert – Laser engraved and just bursting with love, this aluminum wallet insert is something he'll treasure forever.
28. Personalized Love Book – Don't settle for ordinary. Give him the gift of your personalized love story he can read again and again!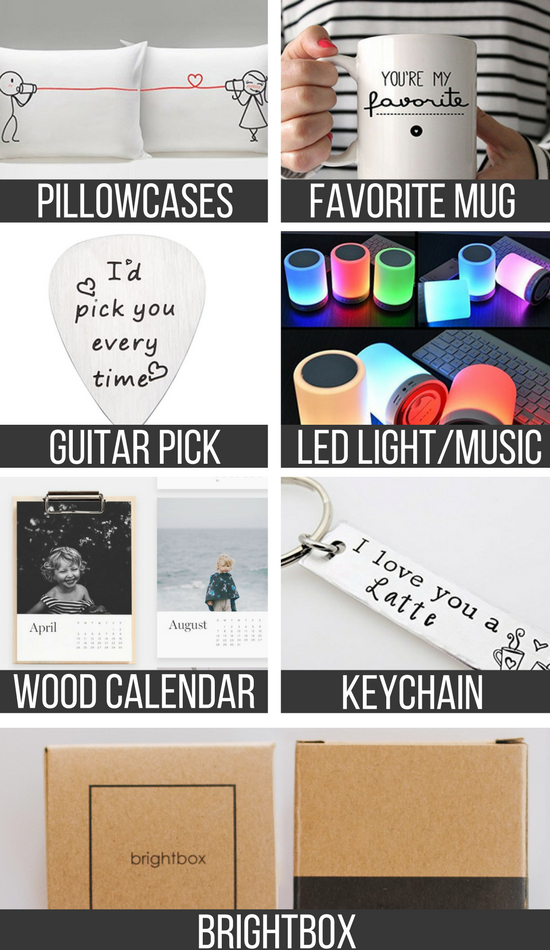 29. Pillowcases – Extra comfy and totally cute, this couples pillowcase set is right up our alley!
30. Favorite Mug – Let the mug do the talking and remind him he's your favorite again and again!
31. Guitar Pick – Guitar aficionados will be all sorts of gaga over this hand stamped, stainless steel pick with just the right message.
32. LED Light/Music – Gadget lovers will adore this all-in-one light accessory that combines a Bluetooth speaker, wireless music player, speakerphone and LED mood lamp.
33. Wood Calendar – Get back to basics with this wood customizable wood calendar made of reclaimed pine.
34. Keychain – Do you love him a little or a latte? Let him know with this hand stamped reminder!
35. Brightbox – Thoughtful, sweet, and at a price that can't be beat, these darling boxes are full of goodies he'll LOVE!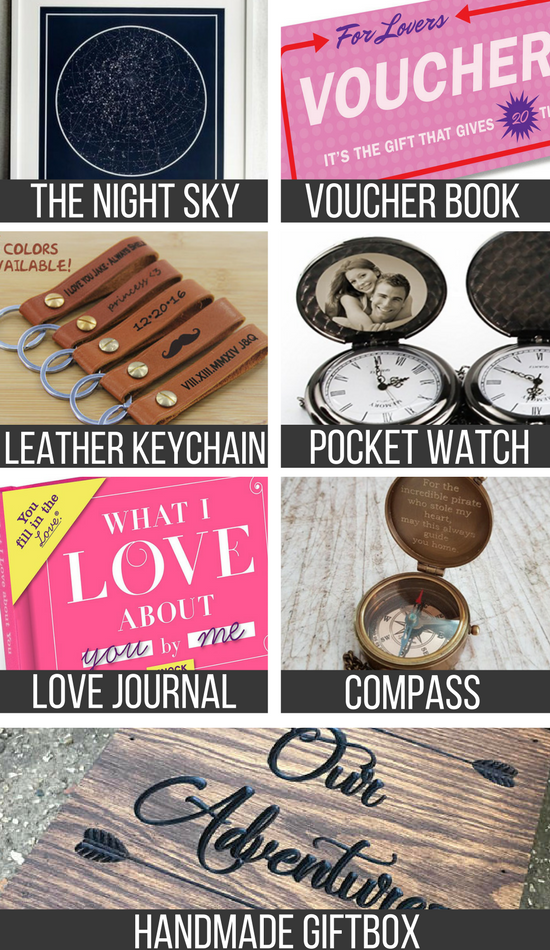 36. The Night Sky – Boy oh boy does this gift scream, 'Romantic.' Simply pick a date that's special to the two of you be it proposal, wedding, etc. and create an 18″ x 24″ star map of that night!
37. Voucher book – Who doesn't love a good voucher now and again?
38. Leather Keychain – Customize this personalizable leather keychain to say what's in your heart.
39. Pocket Watch – Containing the sweetest message in a super swanky design, this pocket watch will be treasured for years to come.
40. Love Journal – Keep the love alive with this practically done-for-you book that's super fun to fill in!
41. Compass – Help him find his way home with this customizable compass that's perfect for more adventurous souls.
42. Handmade Giftbox – Store your personal mementos and treasures in style with this customizable wooden gift box he's sure to love!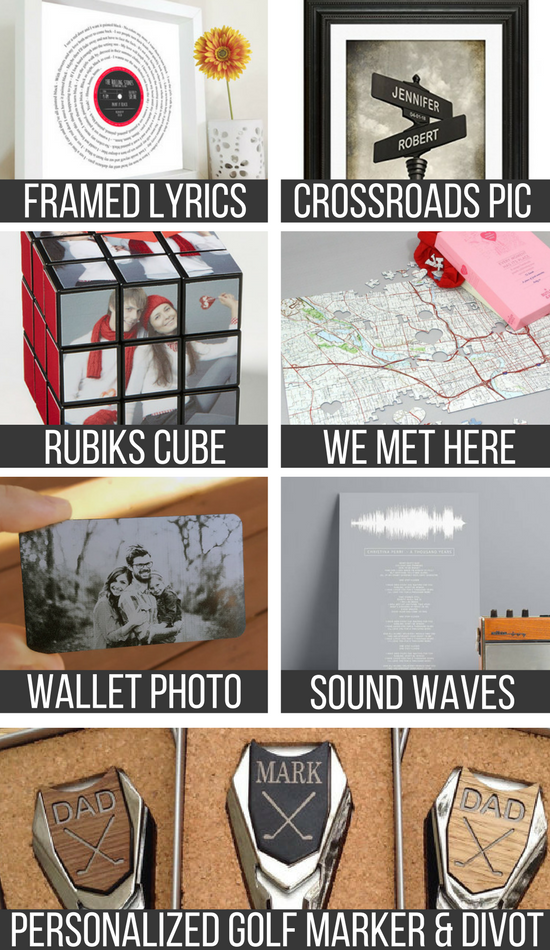 43. Framed Lyrics – Be it your wedding song, a tune he wrote, or a musical treat that just means something special, you can't go wrong with putting it in a frame!
44. Crossroads Pic – We're in love with this Crossroads print that includes two personalized names and your special date!
45. Rubiks Cube – Quirky, fun, and totally unique, this is one gift he won't soon forget.
46. We Met Here – A combination jig-saw/love story, this personalized puzzle is a fantastic reminder of where the two of you ment.
47. Wallet Photo – This engraved metal photo will not only last forever, but makes a fantastic 'anytime' gift!
48. Sound Waves – Compatible with any song of your choosing, this creative idea is printed on Satin Art Paper and is truly one-of-a-kind.
49. Personalized Golf Ball Marker & Divot – Give the gift of love to your favorite golfer with this personalized ball marker and divot set.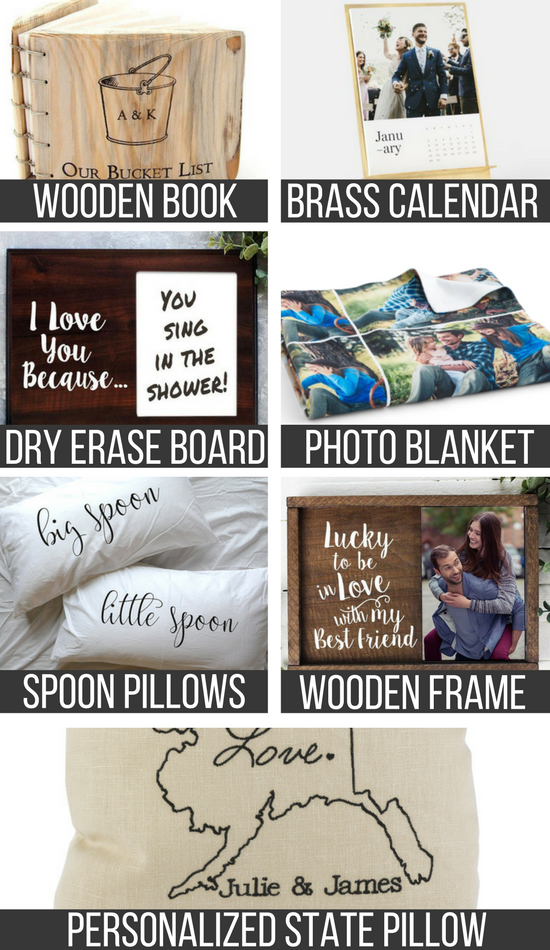 50. Wooden Book – That exact book is no longer available but we found this cute Bucket list book! Let him know how excited you are for your future together with this book that's perfect for your dreams together!
51. Brass Calendar – Complete with 12 photos of your choosing, this standing brass easel & calendar will add the perfect touch of romance to his desk or home office.
52. Dry Erase Board – This exact product is no longer available but we found a similar one, Here. Let him know the many reasons you love him with this fantastic dry-erase board that's fun enough for both of you!
53. Photo Blanket – Snuggle up and remember all the good times you've had with this personalized photo blanket.
54. Spoon Pillows – Nothing subtle about these little darlings! This pillowcase set is perfect for when you're in the mood for a little spooning.
55. Wooden Frame – Simply add a photo of the two of you and voila! Romance in a frame.
56. Personalized State Pillow – We recommend selecting either the state you met or the place the two of you call home for ultimate gift (and cuteness!) satisfaction.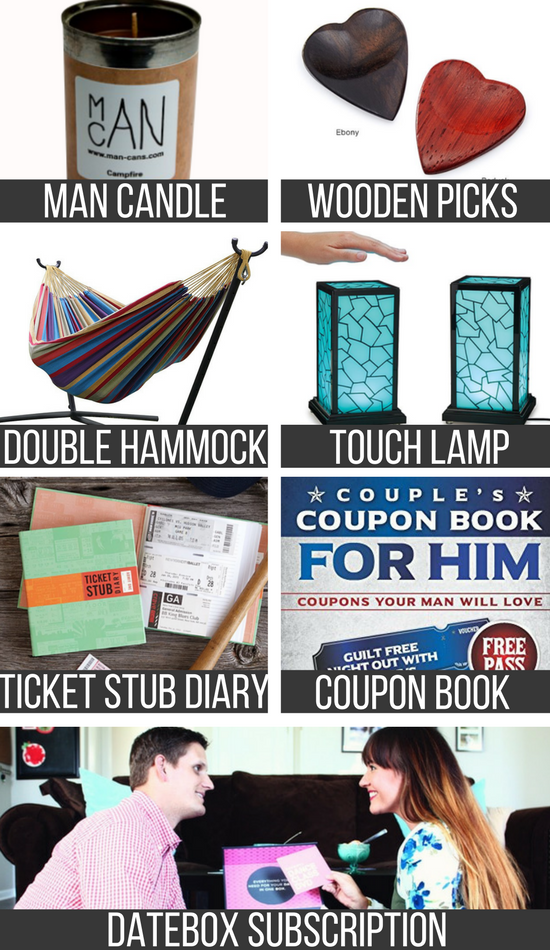 57. Man Candle – Set the mood his way with these fabulous scents that are totally man-approved.
58. Wooden Picks – Made in India, and totally awesome, these wooden guitar picks will go straight to his heart.
59. Double Hammock – Give him a gift that will be loved by the both of you with this double hammock- just right for two!
60. Touch Lamp – Long distance loves have got nothing on this remarkable touch lamp that will definitely keep the two of you connected!
61. Ticket Stub Diary – This darling diary is not only a record of your good times together but is the perfect place to store ticket stubs and more!
62.Coupon Book – Perfect for Valentine's Day, birthdays, or as a quick and easy, "I love you," this coupon book has it all!
63. Datebox Subscription – We're obsessed with Datebox and you will be too! Online ordering is oh so simple and each date is customized to your unique tastes!
SEXY GIFTS FOR HIM
Pump up the romance INSIDE the bedroom with these sweet and spicy gifts he's sure to love!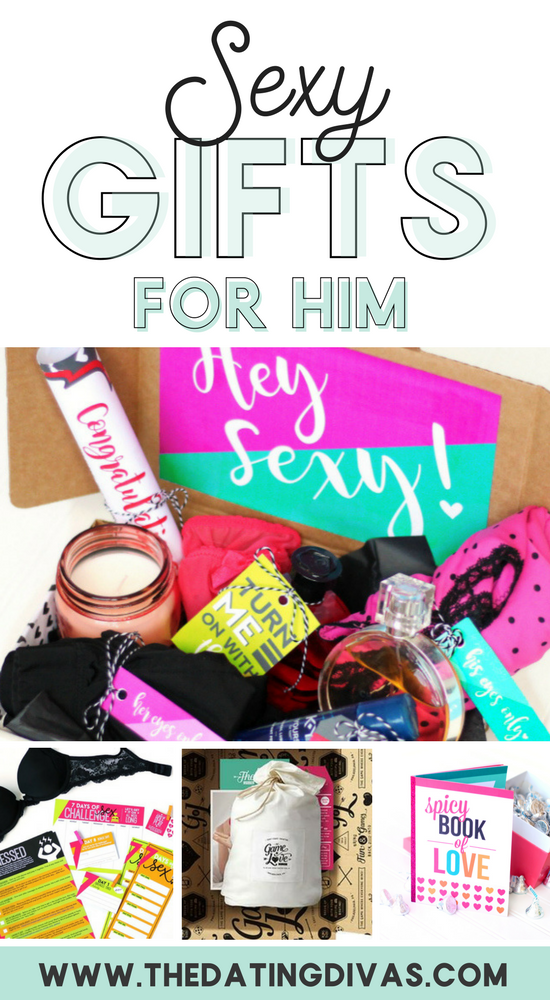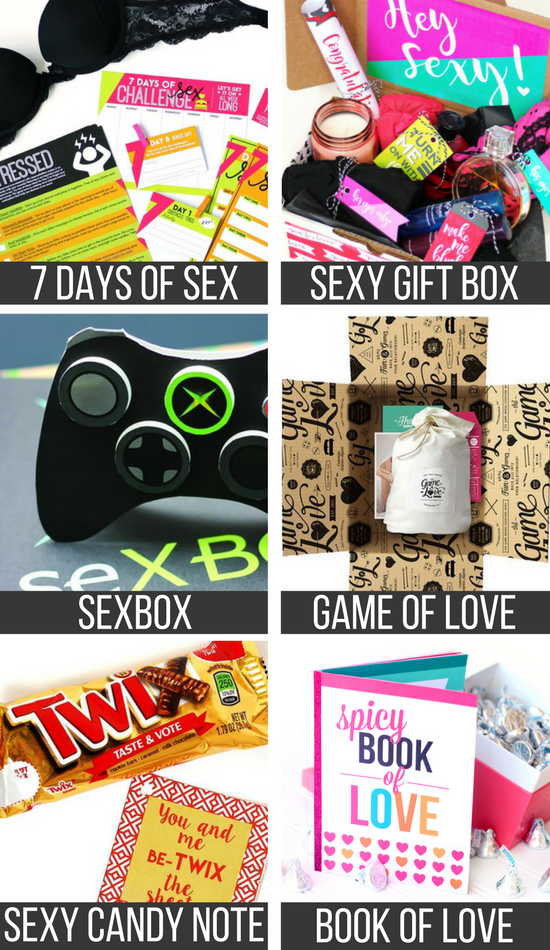 64. 7 Days of Sex – A whole week of sexy time…? What's not to love?!
65. Sexy Gift Box – Watch his eyes pop as he gets a customized box full of 'goodies' each and every month!
66. SeXBOX – Gamer guys, look out! This is one spicy box that will give that console a run for its money.
67. Game of Love – A sheet and a bedroom game all in one. We Divas can't get enough of this clever idea and our hubbys love it just as much!
68. Sexy Candy Note – Looking for an uber quick and easy way to spread the love? Look no further!
69.Book of Love – This printable coupon book is full of sweet and spicy ideas and make for the PERFECT bedroom gift.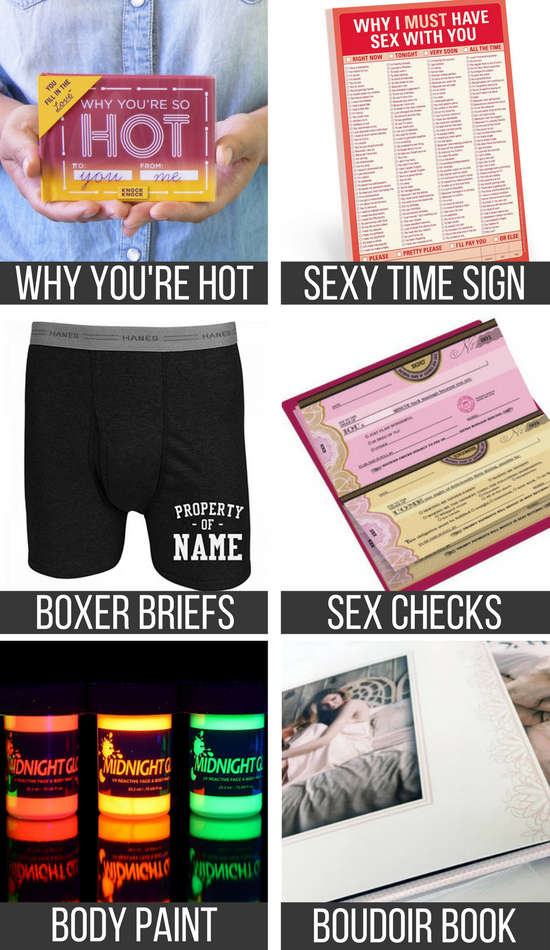 70. Why You're Hot – This fill-in-the-blank love journal is fresh, fun, and will certainly get that spicy message across!
71. Sexy Time Sign – Add a little fun and humor to the bedroom with this saucy something the two of you will LOVE.
72. Boxer Briefs – You love his butt. Let him know how much with this hilarious gift!
73. Sex Checks – He'll hardly be able to wait to 'cash in' these sexy checks. We guarantee it!
74. Body Paint – They say a picture is worth a thousand words… 'nuff said.
75. Boudoir Book – Give him a gift that is TRULY unique with a boudoir shoot and photo book!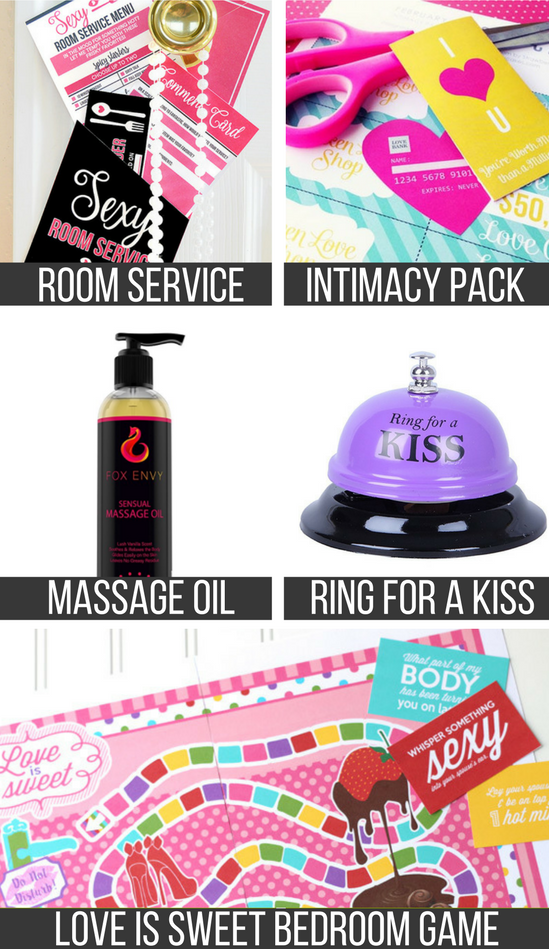 76. Room Service – From spicy starters to foreplay favorites, this is one Room Service you won't mind paying for (and you don't have to!).
77. Intimacy Pack – With 12 sexy bedroom games to last you all year long, this is one gift kit you don't want to miss!
78. Massage Oil – Help him relax, unwind, and have some extra fun playtime with this spicy vanilla scented gift.
79. Ring for a Kiss – Now you'll always know when he's ready for a little smoochin'. How fun is that?!
80. Love Is Sweet Bedroom Game – Confession: We Divas LOVE this game. And he will too.
PERSONAL CARE GIFTS FOR HIM
He'll know you love him from head to toe with these fantastic gift ideas!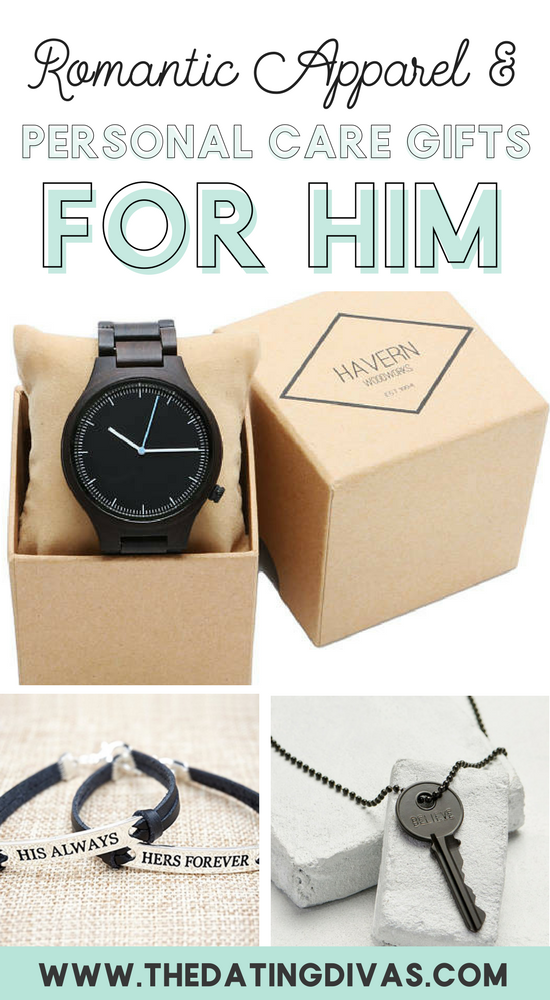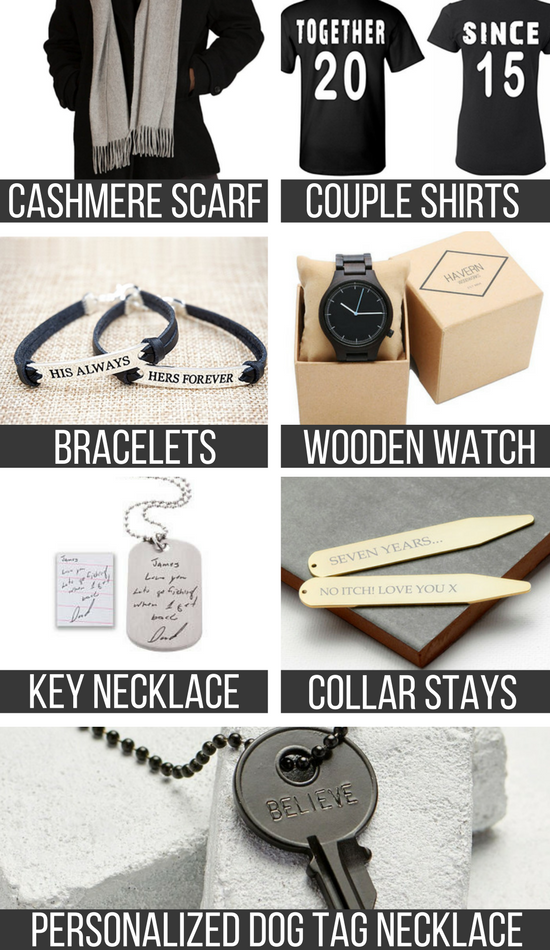 81. Cashmere Scarf – Wrap him up in love (and cashmere!) with this 100% pure cashmere scarf- perfect for those cold winter months.
82. Couple Shirts – How cute are these?! Just right for a romantic birthday, Valentine, or anniversary gift.
83. Bracelets –  With a super sweet saying and sleek design, these his & her leather bracelets are top notch!
84. Wooden Watch – Give him the gift of time (literally!) and love with this engravable wooden watch that's as snazzy as he is.
85. Key Necklace – Handmade and inspiring, this matte black key necklace will remind him of your love for him, and keep him loving himself.
86. Collar Stays – Keep those collars in tip-top shape with these 'secret message' collar stays.
87. Personalized Dog Tag Necklace – Have your very own handwriting transferred to this dog tag necklace that's almost too swaggy for words.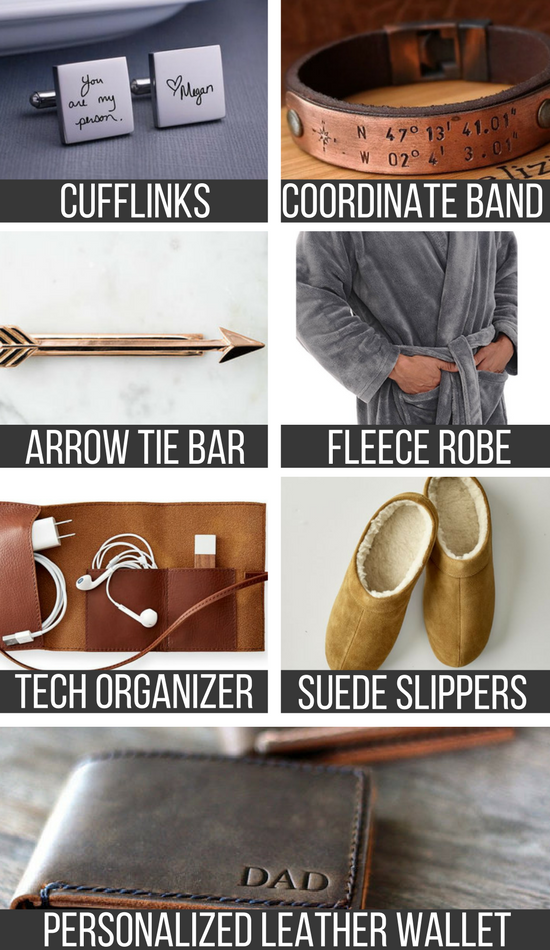 88. Cufflinks – Stainless steel and engraved with your own handwriting, these customized cufflinks will have him living and loving in style.
89. Coordinates Band – Pick a spot that's unique to the two of you (proposal perhaps?) and craft this fabulous coordinates bracelet to remind him always!
90. Arrow Tie Bar – Keep those ties looking fly and your love alive with this darling arrow shaped tie bar.
91. Fleece Robe – give him the gift of ultimate coziness with this fleece robe that's warm and oh-so-wonderful.
92. Tech Organizer – Techies will adore this travel organizer- just perfect for slipping a love note or two inside!
93. Suede Slippers – He'll never get 'cold feet' again with these soft, suede slippers!
94. Personalized Leather Wallet – With options such as a monogram, logo, or small quote, he'll be over the moon in love with this leather wallet.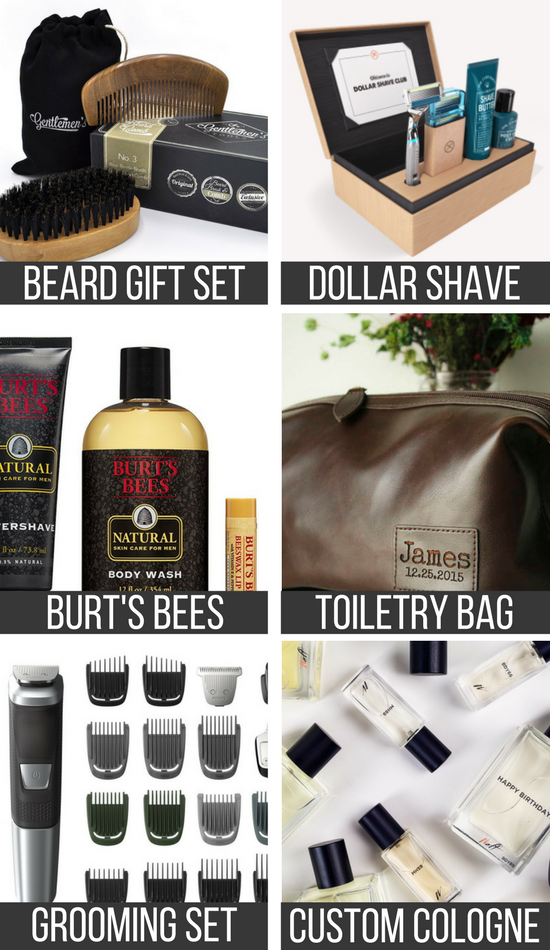 95. Beard Gift Set – Keep the beard soft (and the kisses coming!) with this all-in-one gift set.
96. Dollar Shave – With a close, clean shave each and monthly goodies, Dollar Shave Club is the perfect gift for a man without any whiskers.
97. Burt's Bees – He works hard and deserves a little pampering! That's where this natural gift set comes in!
98. Toiletry Bag – Let him stash his grooming products in style with this personalized leather toiletry bag that's so pretty we practically want it.
99. Grooming Set – With a unique no-slip grip and interchangeable grooming heads, he's sure to love this complete grooming set. –
100. Custom Cologne – Give him the gift of a signature scent with this fun and clever cologne buying process!